Ya ha salido en los blogs más leídos sobre China, e incluso en algún célebre blog español, pero oye, no puedo quedarme sin hablar del apelotante suceso ocurrido el pasado fin de semana en Shanghai.

Una imposible combinación de cimientos malos, paredes buenas y tierra movediza debido a las lluvias produjo que un bloque de pisos de las afueras de Shanghai se cayera enterito y de una forma sin igual. El edificio literalmente se tumbó, pasando del estado vertical al horizontal en cuestión de segundos: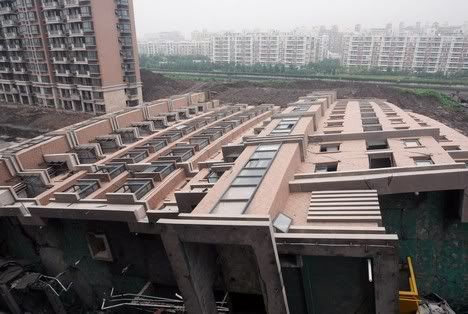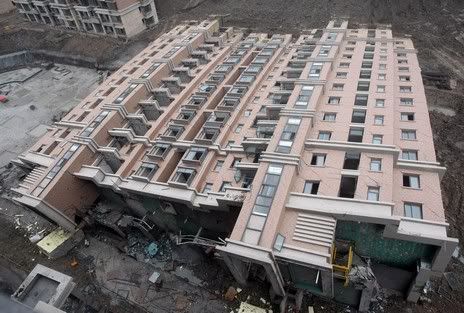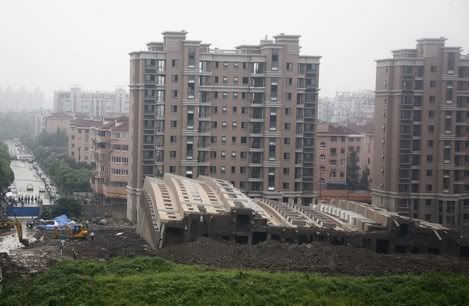 Los cimientos también salieron a la superficie, cual raíces de limonero: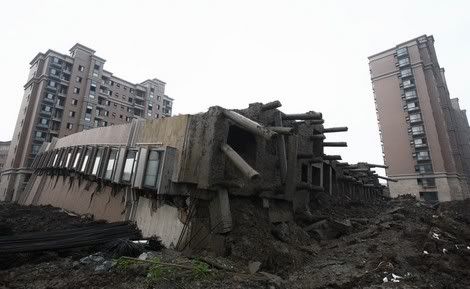 Desde los tiempos de la mítica casa clavo, no se veían en China unas estampas inmobiliarias tan curiosas. Como suelo decir siempre que veo cosas de este tipo... ¡estas cosas sólo pueden pasar en China!

Los pisos estaban en construcción y aún no vivía nadie en la zona residencial, así que se ha evitado una gran cifra de víctimas, aunque hay que lamentar que un obrero murió en la monumental tumbada. El drama también está en ver qué pasará con los que pagaron los pisos que ahora han girado 90 grados: ¿les darán otra casa?

Por no hablar de los que han pagado millonadas por viviendas en otros edificios de la urbanización... Ya hay muchos que han exigido que les devuelvan el dinero porque no quieren que les pase lo mismo un día de lluvia cualquiera...

La inmobiliaria (que estaba construyendo sin licencia, por si todo esto fuera poco) asegura que el derrumbe ha sido un desgraciado incidente pero que no afectará al resto de bloques de la urbanización. Como para fiarse...


---
Articulo publicado con permiso amable de Chino Chano
 
More Articles in this Category
Advertisement
We want you! - 加入我们!
We're currently looking for some down to earth people who can spare a little time each week to write about anything related to
Xi'an
and China, who are eager to share stories, news, insight info and be a part of the most sophisticated and fastest growing Digital Magazine in
Xi'an
. Whether you're young or old, we'd like to hear from you.
Click for more info
.
Restaurants
Tuscany Restaurant
We are a family owned restaurant and take pride in everything we do. From the fine ingredients we use to the wines we carry, you...
Hotels
Grand Noble Xi'an
The hotel has 428 well-appointed guestrooms and suites, a full range of dining, recreational and conference facilities. ...
ND on your Mobile Phone Browser - Coming soon
ND Mobile v1.0 is online! Browse ND's
eMag
with your mobile device by typing the address
m.newdynasty.com.cn
in the browser of your device or be auto-redirected to our mobile site by typing
newdynasty.com.cn
. You can read our articles, watch ND TV and more even better in the future with your
iphone
, android etc. Stay tuned.
Click here for more Info
or
here
if you want to report a bug.